Under the motto:
– We don't just imagine a better world, we help to create it.-
We are happy to announce that we have become part of the PTC Partner Network as AR/IoT Solution Provider/System Integrator and  a Vuforia distributor for the following area:
Croatia, Czech Republic, Poland, Serbia, Slovakia and Slovenia.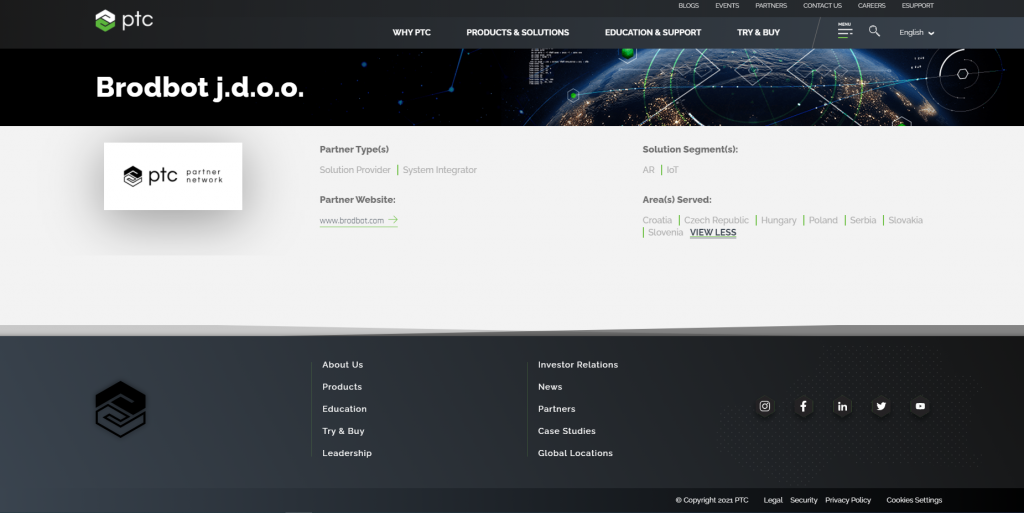 About PTC
PTC Inc. is a global computer software and services company founded in 1985 and headquartered in Boston, Massachusetts; today has 96 office locations across the globe and more than 6,000 employees worldwide who are making an impact on the industry and on the world.
PTC is the global leader in Digital Transformation and their technology helps industrial companies to create value for themselves, their customers, and the world. From hospital equipment with increased uptime and a spacesuit that is just as durable at half the weight, to more sustainable buildings and more efficient manufacturing – each improvement that PTC technology helps to create, makes our world a better place.
You can find out more about PTC Inc. here.
PTC Products and Services
PTC has five product segments: IoT, AR, CAD, PLM, and SLM.
PTC's offerings for the Internet of Things include many of its previously acquired technologies including its Industrial Internet of Things Platform, ThingWorx Industrial Iot Platform, ThingWorx Manufacturing Apps and Kepware.
PTC's Augmented Reality offerings include the Vuforia Engine, an AR Platform with over 800,000 developers. Vuforia Studio is the AR authoring application and Vuforia Chalk enables a user to draw virtual images overlaid on physical systems.
The PTC CAD product provides a set of Computer Aided Design capabilities. PTC CAD is a suite of 2D and 3D product design software used to create, analyze and view product designs. CAD software solutions provided by PTC are following:
PTC Creo

Onshape

Creo Elements/Direct
Product Lifecycle Management (PLM),  is a perfect solution  for companies struggling to keep up with product complexity and the pace of innovation, and missing out on the potential of IoT. PLM is the foundation for the digital thread, enables multi-disciplinary teams to collaborate throughout following solutions:
Windchill PLM Software

ThingWorx Navigate

Creo View Visualization Software

FlexPLM V12 Retail PLM Solution
PTC Mathcad Software
Math software allows you to solve, analyze and share your most vital engineering calculations with:
Service Lifecycle Management (SLM) Software
helps you to maximize your service efficiency and increase customer success.
Other PTC Products
If you want to find out more about Vuforia and AR/IoT solutions, contact us by e-mail:
info@brodbot.hr