You must have heard the phrase – Time is money! That's right, regardless of whether it's your private or business life.
This is our list of useful tools, which save us at least an hour each day.
It's important to keep in mind that there is no magic tool that will completely eliminate the hard work, but fortunately, there are some really great tools to help you do smarter and make you more productive in project management, email usage, consumer relationship management, etc. Use these productivity and time management tools and you will surely ease business, save time, and reduce the level of stress at work with your colleagues…
Trello
Trello's boards, lists, and cards enable you to organize and prioritize your projects in a fun, flexible, and rewarding way.Whether it's for work, a side project or even the next family vacation, Trello helps your team stay organized.Dive into the details by adding comments, attachments, due dates, and more directly to Trello cards. Collaborate on projects from beginning to end.Go from idea to action in seconds with Trello's intuitively simple boards, lists, and cards.Use Trello the way your team works best. Trello has the flexibility & features to fit any team's style.
Google Drive / Docs / Spreadsheets
Google's worshipers will easily share and edit a full set of files, as they already know it in advance. You can even talk to team members and share notes within a document.

Evernote
There is another great application that will make it easier for you to work. Save notes, set up reminders, organize photos, upload attachments with this great application, on desktop and mobile devices! Another cool thing this app allows is to record a web article snippet so that you can read them later.

Rescue Time
If you want to be more productive and discover where to spend your time while doing, this is a joke for you. Rescue Time is a pretty unbelievable tool that shows you not only where you spend your time, but also the time you are least productive, along with the best and worst days of the week (and month). It can install it on your computer and track which programs and websites you spend the most time.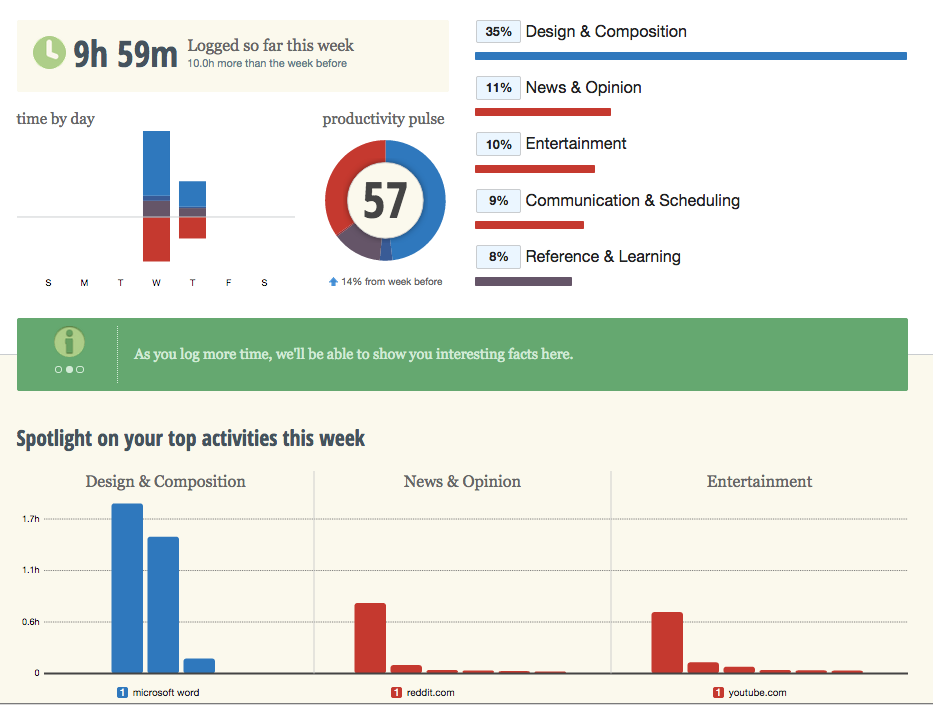 Hootsuite
The last ten years of social networks have become imperative. Social Networks have become an important digital marketing tool. Hootsuite can be very useful if you want to take care of various social media accounts. Keep track of all your social activities in one simple dashboard. Organizing your posts, giving social tasks, organizing Twitter lists has never been easier.